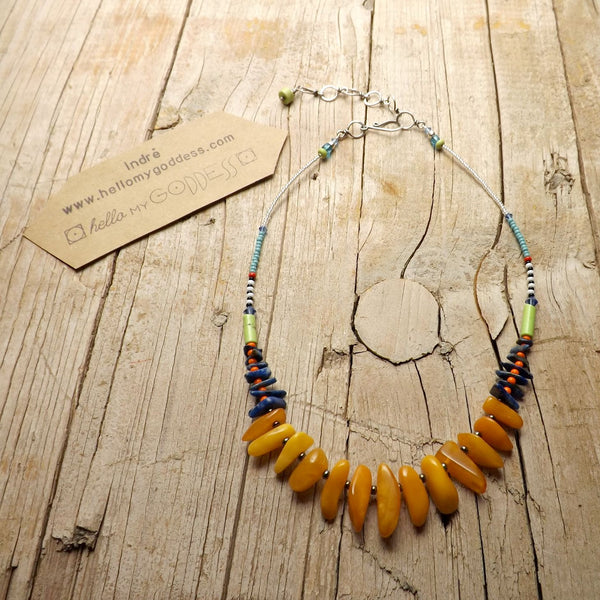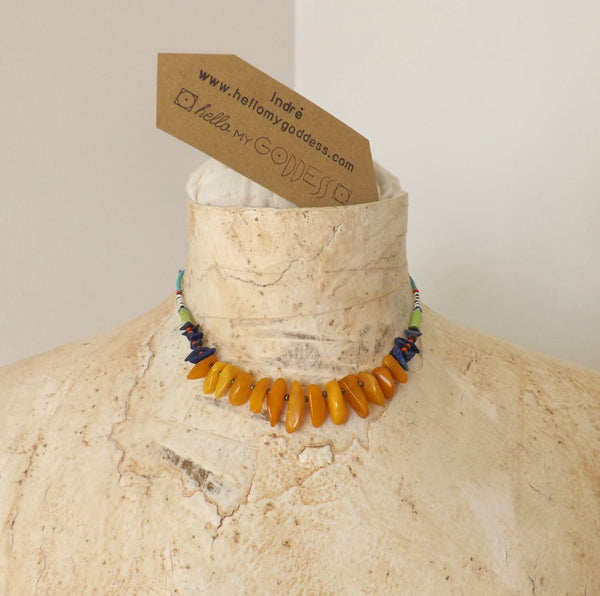 Good Day Sunshine Amber Necklace #1
Hello My Lovely Mermaid Goddess!
The sun is shining,,,
The wind is in your hair...
The smell of the ocean is in the air....
Surf's up!
Wear this with a white Tee and off to the beach you go! (A goddess can dream, right?!?? )
Or slip this on  in the evening over your stunning black dress.

Red lipstick optional. (Maybe rosy orange or shiny gold gloss instead?) 
I made this necklace using antique amber pieces.

I also added:
lapiz lazuli chips,
dyed turquoise (the green ones you see there),
wooden beads,
glass seed beads,
teeny Japanese glass beads.
The chain is adjustable. I made it myself out of sterling silver .
One of a kind.
Adjustable length

15-1/2″ (39.5 cm) if you hook it at its shortest link.
and 16-1/2″ (42 cm) if you hook it to  the longest link.

That means t is made to be worn fairly close to the neck.
While we're on teh subject of amber:
Did you know the story of amber ?
Tragic story? OMG yes!
Beautifully romantic?
You better believe it!!!
J U R A T E and K A S T Y T I S
is the name of this story.
Jurate was a sea goddess with long hair
that reached the bottom of her tail.
The blue-green scales on her tail glistened
as she swooshed about in the deep blue waters of the Baltic Sea.
At first, she did not like the fisherman, Kastytis, who came daily
disturbing the peaceful waters of the Baltic Sea
with his sad little wooden boat.
Jurate loved all the sea creatures
with all her heart.
(Cue Disney's Little Mermaid theme song.)
She schemed to punish this mean mortal
who, every Monday through Friday,
caught many of her little buddies
in his grimy grey fishing net.
Kastytis must have been either
a tanned hunk of eye candy,
or a sweet-talker,
(probably both)
because Jurate eventually fell madly in love with him,
Figures…
She was a goddess, sure, but her heart
was like a human's with all its emotional turmoils & ups & downs.
She lured him home to her magnificent castle under the sea.
OK, maybe she didn't have to lure him. He probably was thunderstruck and in love
from the very first time he laid eyes upon her. Sexy, gorgeous goddess that she was.
Her palace, made entirely of amber.
was a shining translucent wonder,
Can you even imagine all that honey-colored amber?
Oh so shiny and golden!
(But not all crass and in bad taste. Not like some people's towers with gilded telephones and toilets.)
As in any good fairy tale,
an evil-minded being was lurking in the background.
Who was this busybody, spying on Jurate and Kastytis?
None other than the all-powerful thunder-god Perkunas
(kinda like the Greek god Zeus only with Lithuanian heritage).
He witnessed the intensely sensuous love affair
between the goddess and the mere stinky fish-smelling mortal.
He was pissed off royally.
(Probably jealous, right?!. What wasn't there to love about the beautiful Jurate?)
Wanna guess what happened next?
No one agrees how the story ends
Invent your own ending!
Here are a few versions that exist already:
Version #1:
The Perkunas the petulant god,
struck the amber castle with lightening,
shattering the fragile stone to a trillion teeny bits.
This explains why amber chips are found
on the shores of the Baltic Sea.
What happened to Jurate and Kastytis?
No one says but it probably ain't pretty.
Version #2:
Hopelessly romantic, tragically sad,
it reminds me of Romeo and Juliet.
Perkunas, the all-mighty god with a temper tantrum of 2-year-old,
struck Kastytis with a lightening bolt and electrocuted him on the spot.
Not content with killing a mere mortal, he also demolished the amber castle.
Jurate, being a goddess and immune to mortal death,
cried her eyes out for the rest of eternity,
mourning the loss of her beloved fisherman.
Every single last tear turn into amber.
This is why during heavy storms in the Baltic Sea,
amber pieces float to the surface and later found on the sand along the shoreline.
For realzz.
This last part  is not a story. Amber really does wash up on the shores of the Baltic Sea.
Wear this necklace and be reminded of the beautiful castle under the sea……..